Sofas – Snello Light Grey Leather Base Weave Detail Sofa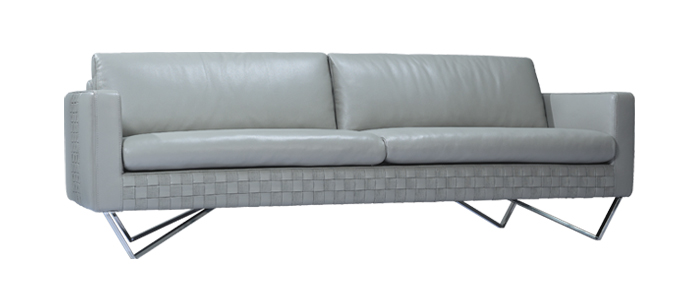 This sofa is customisable! You can alter your lounge to your requirements in just 4 easy steps:
Choose the design you like
Specify the size you need
Add custom design features
Choose your leather
Click here to view our store locations
Or contact Beyond Furniture on 1300 11 22 33 for further details.
You can completely change the look and feel of the Snello by changing the leg design, adding custom base and side leather details, opting for contrast stitching and choosing the exact size you need to fit your home. With all these different options it doesn't matter what style you love, the Snello can be transformed to suit you! Check out the two interior design trends we're loving at the moment and how our Snello complements the two looks.
Right now it's all about bohemian rugs, metallic home accessories and palm leaf prints. And we absolutely love the luxe take on the trend as seen in the image above. For this look, think tropical with an Art Deco twist. Pick loud and daring accessories that will give your living room an exclusive feel, like gold vases and pendants. Opt for a sling back armchair to complement our buttery soft leather Snello in the classic tan and a neutral woven rug.
1. Beyond Furniture Pelle Single Chair $1,950  2. Beyond Furniture Herman Herringbone Rug $995  3. Modernica Cylinder Pot Plant $345  4. Tom Dixon Beat Fat Brass Pendant  5. Coco Republic Preston Deco Quatrefoil Mirror  6. Beyond Furniture Snello King Spice Leather Chaise Sofa $9,245
Another trend that we've seen in the interior design world for the last few years has a bit more of a modern take with a Scandinavian approach. It's all about neutral colour schemes, textures and graphic prints. The Snello has a streamlined and minimal design making it perfect for this look. Pair the soft grey Snello with monochrome cushions, nesting tables and oak accessories. And you can't go wrong with a typographic print either.
1. The Minimalist M / XL Print $90  2. Country Road Cushions  3. Beyond Furniture Snello King Slate Leather Sofa  4. BoConcept Sned Table Lamp  5. Beyond Furniture Poco Side Table + Beyond Furniture Piccolo Side Table
For more detailed information, download this sofa's order form HERE, or call your local store, details HERE.
Snello Design Features:
The slim clean form of the Snello is the perfect base to add rich leather textures and patterns to create a truly personalised and unique design.
The Snello's compact dimensions and huge range of style options makes it the perfect sofa for any space, large or small, modern or traditional.
The Snello's endless leather crafting combinations and wide choice of legs means you can create a stunning leather sofa that is truly one of a kind.
Standard Custom Choices for Snello:
SOFA BASE LEATHER DETAIL: Use either a vertical weave, vertical weave with perforation, diamond weave, or leave the base detail plain. A great way to introduce texture and pattern on your sofa.
ARM DETAIL: You may opt to have a matching strip of leather detailing on the side of the arm, or leave the arm plain.
SEAT BACK DETAIL: Choose from plain cushions, a cushion with wide leather edging (pillow seam), and a cushion with a lead print texture stitched in, or a combination!
LEGS: The 2 dimensional diamond shaped leg is designed specifically for the Snello and gives it an added complexity and elegance, alternatively, you may select a more minimal double, round or square leg, all in your choice of matt or chrome steel.
CUSTOM ALTERATIONS: The Snellos' size, leather features and legs can all be made to your precise requirements. Speak with a design consultant for further information.
Internal Construction:
Kiln-dried hardwood frame; high density polyurethane foam seat with natural feather; high density polyurethane foam rear cushion with natural feather; heavy duty sinuous spring base; eco-friendly plywood back suspension; Italian leather upholstery; stainless steel legs.
Material:
This sofa is available in our range of European leathers, with over 140 colour options. To see the full range, please VISIT A STORE, or request a sample via phone or email – design@beyondfurniture.com.au
When investing in a leather sofa, it is important to understand leather quality to ensure the value of your purchase. At Beyond Furniture, our sofas are made with premium Italian leather, adding luxury to our contemporary design. Click HERE for more information regarding our sofas.