Sofas – Carmo Dark Grey Mojave Fabric Sofa With Resting Unit
Carmo sofa with resting unit, the product is available in fabrics and leathers. Shown colour, dark grey Mojave fabric 0302. H70xW307xD165cm. [Carmo – CA08] Article no.: 52600CA080302. See more of our favourite BoConcept sofas Sydney here.
Click here to view our store locations
Or contact BoConcept on (02) 9437 0066 for further details.
Today we're featuring one of our most desirable sofas, the Carmo. We've collected some images of the Carmo in our customers' homes to show you how you can style your own. With its robust appearance, cubistic shape and modular design, our customers from all around the globe are just loving it!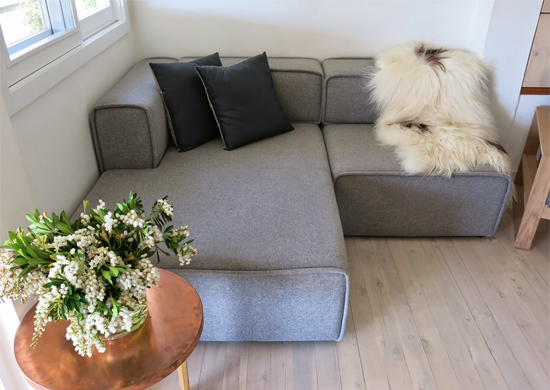 The Carmo sits perfectly in small spaces, seen here in the home of Mr and Mrs White, or Nathan and Sasha, who own a furniture and textiles company. Styled back with a sheepskin rug and two leather cushions, the Carmo chaise is so comfortable to lounge around on, not to mention it sits neatly in corners. Thanks to its modular design you can make it as big or as small as you want.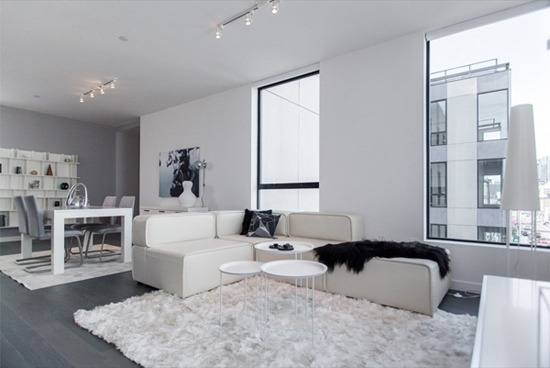 If you're after an ultra modern take on this masculine sofa, try the Carmo in all leather. We adore this all white look at the Fifteen Fifteen apartment in San Francisco. Style it with monochrome accessories, perhaps a few nesting coffee tables and a shaggy rug.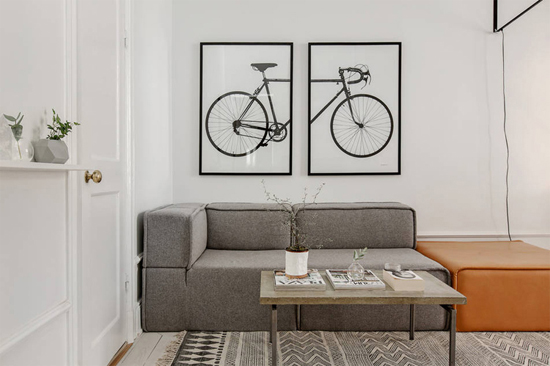 Another shot of the Carmo looking wonderful in a small apartment space. The gorgeous tan leather really adds that extra bit of interest and personality to break up the white and grey colour palette. We're digging the bicycle prints above the sofa too! This time the owners have mixed and matched leather and fabric options to create a unique take on the look.
Such a powerful look! A showstopper, the Carmo fills out the room nicely while complementing the subtle colour palette by the combination of soft tan leather and light grey fabric upholstery. A living room with a more eclectic feel, this space was put together by Swedish stylist Jennifer Jansch.
Features
Carmo is modular and you can choose from different seating units and more than 90 different fabrics and leathers
enjoy extra padding on the armrests and exclusive piping details
loose cushions in the same material as the sofa are available
Delivery
Our customisable sofas are produced upon order. Standard delivery time is 10 – 12 weeks. Please contact your store for more details.
Materials
the armrest is designed with a non-visible foam triangle to make the it soft and comfortable
the back and seat are filled with high resilient foam
the high quality framework is made of solid wood, particle board and steel springs
Care instructions
We always recommend that you shake your cushions regularly to ensure form stability
Fabric:
ordinary cleaning: vacuum frequently and use BoConcept textile care products for general cleaning
all fabrics can be dry-cleaned
cushions have a loose cover for extra cleaning
fabrics treated with AquaClean do not require treatment with BoConcept textile products
Leather:
for general cleaning just use a dry soft cloth
we recommend using BoConcept leather care products 2-3 times a year